Map Unavailable
June 1 - June 30
12:00 am
Fundraiser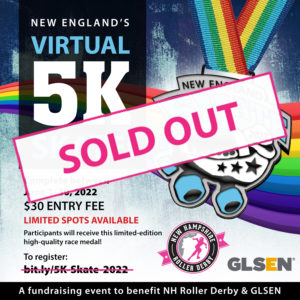 ***SOLD OUT***
Benefitting: NH Roller Derby & GLSEN (in honor of June's Pride Month)
Location: Virtual/Anywhere
Date: Must be completed between June 1 –June 30*
*(Medals will start shipping May 15th)
Cost: $30 Registration Fee
Information: NH Roller Derby will be hosting a Virtual 5K Skate to benefit NH Roller Derby and GLSEN. Once you register a high-quality heavy metal race medal will be mailed before you participate in the skate. You can roller skate or rollerblade—you can even bike, or walk—all we want is a commitment to you participating in a 5K activity! Skate the beach, hit the local rail trails!*
Once you have completed your 5K, post a photo of you wearing your medal and tag: #5KATE2022 #GLSEN #nhrollerderby or email your photos to: marketing@nhrollerderby.com to be shared on our social media.
Thank you for your support!
See less
Are you a roller derby Official and want to officiate our games or scrimmages? Visit the "Officiating with NHRD" website.